Industrial Filter Elements
The products manufactured by Micro Star srl, are extremely competitive in economic terms. They meet quality requirements in line with the market demand and the international regulations. Our company is able to provide for the customer, for each product and after specific request, the certification regarding the materials used, filtration degree and schematic size drawings and hydraulic performances.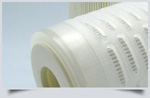 SPL cartridges include pleated filter cartridges, manufactured in different filter media, such as polypropylene, glassfiber, polyester, polypropylene or stainless steel inner core and polypropylene external cage.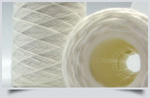 SPL cartridges include also pleated filter cartridges for high flow rate with outside diameter 6" (152 mm) in different length (20", 40" 60"), manufactured in different filter media (polyrpopylene, polyestere, glassfiber), polypropylene inner core and external cage.
New entry